Accelerating Gratitude: Celebrating National Truck Driver Appreciation Week Through Digital Marketing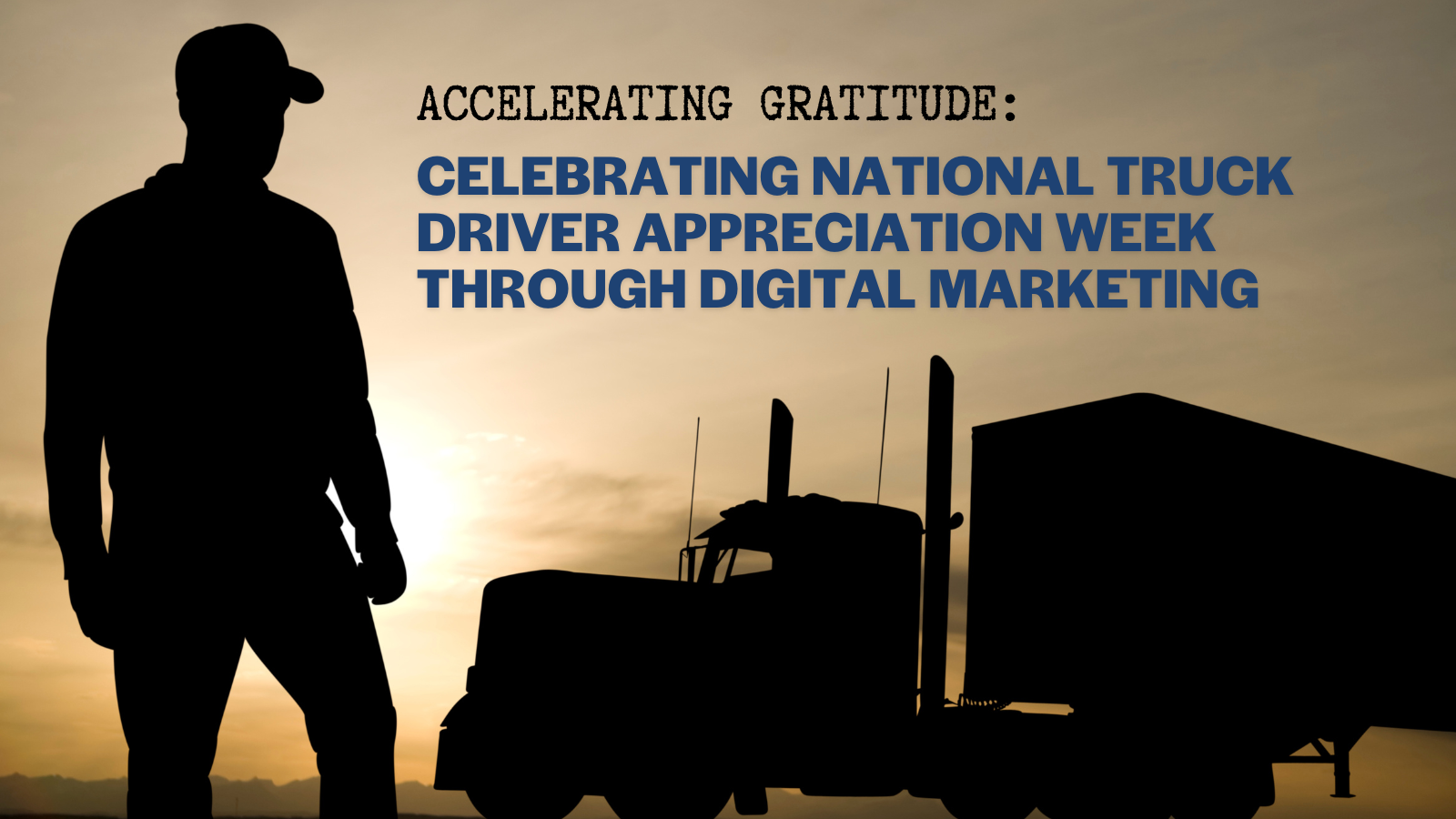 National Truck Driver Appreciation Week is a time to honor the backbone of our industry – the dedicated truck drivers who keep our economy rolling. While in-person appreciation events for your drivers are essential, don't forget about the power of digital marketing to amplify your appreciation efforts. In this blog, we'll explore how transportation and logistics brands can harness the power of digital marketing, especially through social media, to create meaningful and engaging celebrations for National Truck Driver Appreciation Week.
Customized Social Media Campaigns: Kick off the week with a dedicated social media campaign celebrating your company's truck drivers. Create eye-catching graphics, videos, and posts that convey gratitude and respect. Use #NTDAW2023 to unify your messages and encourage others to join the conversation. You can even share recaps of your in-person appreciation events like CFI, a drop & hook client, did here.

Driver Spotlights: Sharing Personal Stories: Use your social media platforms to spotlight individual drivers. Share their stories, experiences, and photos. Highlight their journey, the challenges they've overcome, and the impact they make daily. This personal touch humanizes the profession and fosters a strong sense of connection. Find inspiration from drop & hook client Bettaway Logistics here.

Interactive Quizzes and Polls: Engage your audience by designing interactive quizzes or polls related to the trucking industry. Ask questions about trucking history, safety practices, or fun facts, creating an interactive and educational experience that resonates with drivers and followers alike. Here's a great post from Trucker Fund that shares interesting facts about truck drivers.

Virtual Appreciation Events: Webinars and Live Chats: Host virtual events such as webinars or live chats where truck drivers can interact directly with company representatives or industry experts. Discuss topics relevant to drivers' interests, challenges, and career growth, showcasing your commitment to their well-being.

Photo Contests: "Behind the Wheel" Snapshots: Launch a photo contest where drivers can submit snapshots from their journeys "behind the wheel." Encourage them to share captivating moments, scenic views, and snapshots that reflect their unique experiences on the road. You can share this user-generated content on your brand's social channels.

Exclusive Discounts and Giveaways: Partner with relevant brands to offer exclusive discounts or giveaways for truck drivers during the appreciation week. This could include discounts on fuel, services, accommodations, or branded merchandise. Here's an example from Love's Travel Stops.

Thank-You Videos and Messages: Create heartwarming messages featuring company leadership, employees, and clients expressing their gratitude to truck drivers. Share videos and messages of thanks across social media platforms and encourage others to share their own messages. Here's a great example from Jennifer Shaffer, Marketing Director at IMC Companies. You can also get behind the camera to share your message of thanks as Schneider did here.
National Truck Driver Appreciation Week presents a golden opportunity for transportation and logistics brands to show their heartfelt gratitude and respect for the dedicated truck drivers who play a crucial role in our industry. Through creative and thoughtful digital marketing strategies, especially on social media platforms, we can amplify our appreciation, foster a sense of community, and make a lasting impact on those who keep our economy moving. Let's drive change, not just on the road, but also in the way we express our appreciation during this special week.
Stay tuned to drop & hook's social media during National Truck Driver Appreciation Week where we'll share more examples of utilizing digital marketing to recognize drivers from our own clients.
How are you planning to recognize NTDAW? We want to know! Leave a comment below.