drop & hook Earns 4 TMSA Awards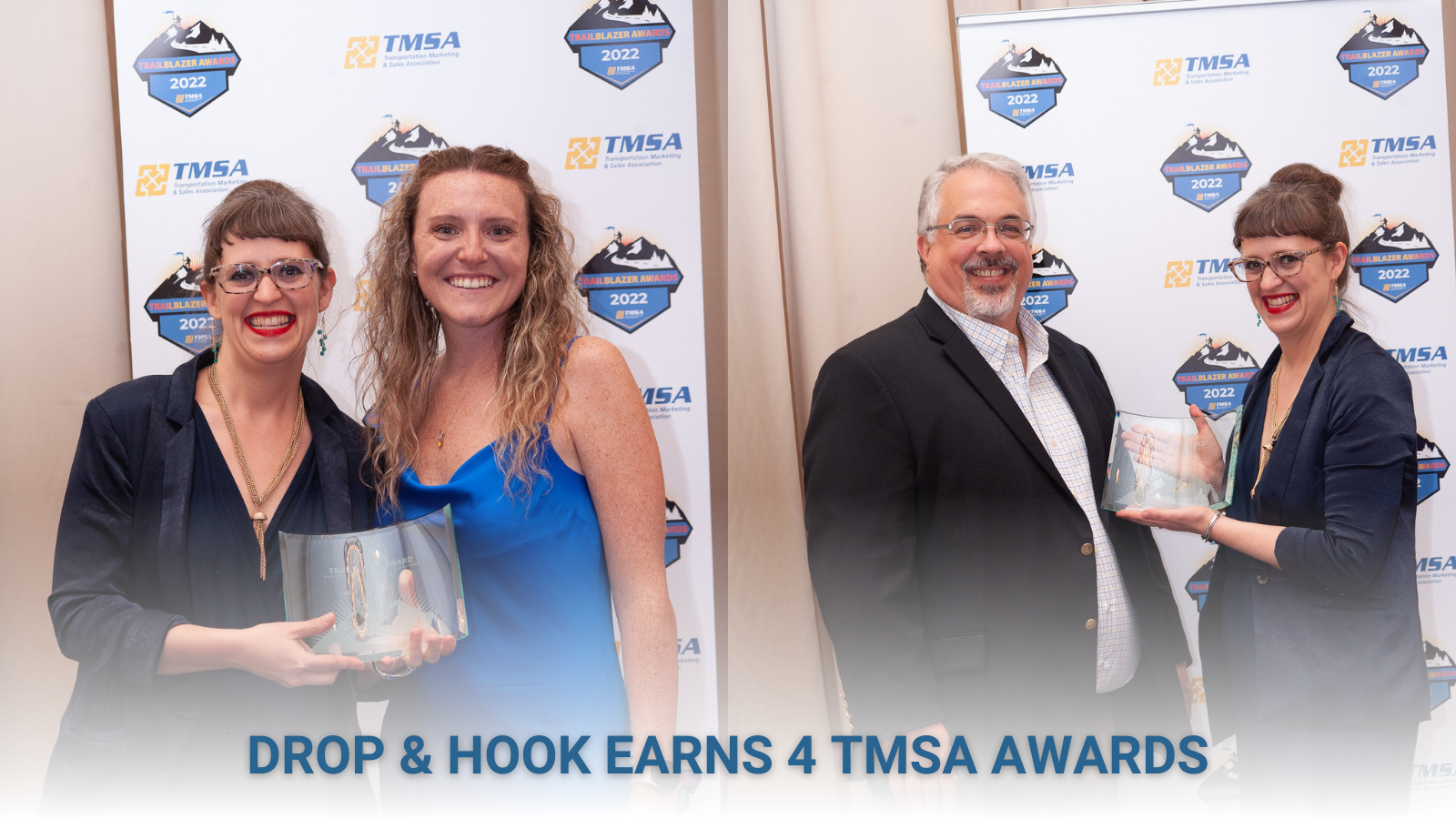 The drop & hook team earned three Trailblazer Awards and drop & hook's Founder, Michelle LeBlanc, earned the Partner of the Year Award from the Transportation Marketing & Sales Association (TMSA). The awards were announced during the 2022 Logistics Marketing & Sales Conference in Orlando.
"We're absolutely thrilled to be considered a trailblazing organization in the transportation and logistics industry," said LeBlanc. "I want to thank our clients – TForce Logistics, Trucker Tools, and Core-Mark – for their partnerships on these award-winning projects."
The Trailblazer Awards were presented to companies and individuals for their excellence in sales or marketing accomplishments in the past 12 to 18 months. The Partner of the Year Award was given to a member of TMSA who donated time and resources to TMSA. In total, 25 brands were recognized through TMSA's new awards program and expanded categories.
drop & hook's three trailblazing projects included a B2B campaign, truck driver influencers, and a national hiring week campaign. To share our award-winning projects and insights, we created case studies that outline our work and how you can use our findings to blaze a trail for your organization. View and download drop & hook's case studies here.
About TMSA
TMSA is the only association dedicated to advancing the success of marketing and sales professionals in all modes of the commercial freight transportation market. From president and vice president to manager, director and coordinator, members are at all levels and represent all market segments including motor carriers, 3PLs, railroads, air carriers, ocean lines, port authorities, OEMs, media and suppliers.
About drop & hook
drop & hook is a fully remote digital marketing agency specializing in the transportation and logistics industry. When you work with drop & hook, you can count on our team to bring more than a decade of experience to the conversation. We're experts in building employer brands, creating trucking trends, engaging niche communities, and making email open rates climb. But more importantly, we're good listeners. We'll take the time to learn your business, get to know your unique audience and develop your brand's voice. Then we'll build the solutions you need to know that social media and content marketing are simply handled.