drop & hook Earns Three Trailblazer Awards At TMSA Elevate 2023
The drop & hook team was humbled to receive three Trailblazer Awards from the Transportation Marketing & Sales Association (TMSA). The award winners were announced during the 2023 Logistics Marketing & Sales Conference in Savannah, Georgia.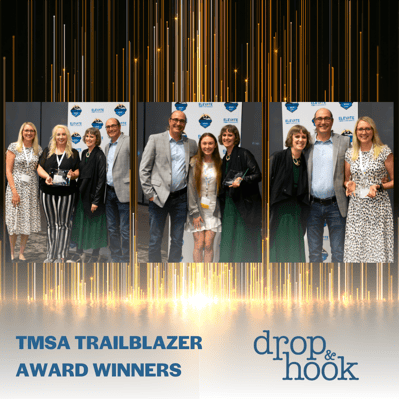 "We're absolutely thrilled to be considered a trailblazing organization in the transportation and logistics industry," said Michelle LeBlanc, CEO and Founder of drop & hook. "I want to thank our clients for their partnerships on these award-winning projects and recognize my team members for their efforts in serving both our client brands and the industry as a whole through our own drop & hook content. It is especially important to me personally to give value back to the transportation industry, and earning this recognition for that effort renews our commitment to doing so!"
drop & hook's three trailblazing projects featured the She Drives CFI driver recruitment and employer branding campaign, Trucker Tools' Driver Loyalty Program, and drop & hook's own blog which shares insights and resources for transportation and logistics marketers. Learn more about our work here.
The Trailblazer Awards showcase the very best of marketing and sales in the transportation and logistics industry. The awards were presented to companies and individuals for their excellence in sales or marketing accomplishments in the past 12 to 18 months.
"Marketing and sales inside the transportation industry continues to evolve. TMSA is thrilled to honor the innovative thinkers whose campaigns include topics from content marketing to diversity, equity, and inclusion to recruitment to everything in between and out-of-the-box," said Jennifer Karpus-Romain, Executive Director at TMSA.
TMSA is the only association dedicated to advancing the success of marketing and sales professionals in all modes of the commercial freight transportation market. Learn more about TMSA and the award winners here.