5 Top Takeaways from Women In Trucking's Accelerate Conference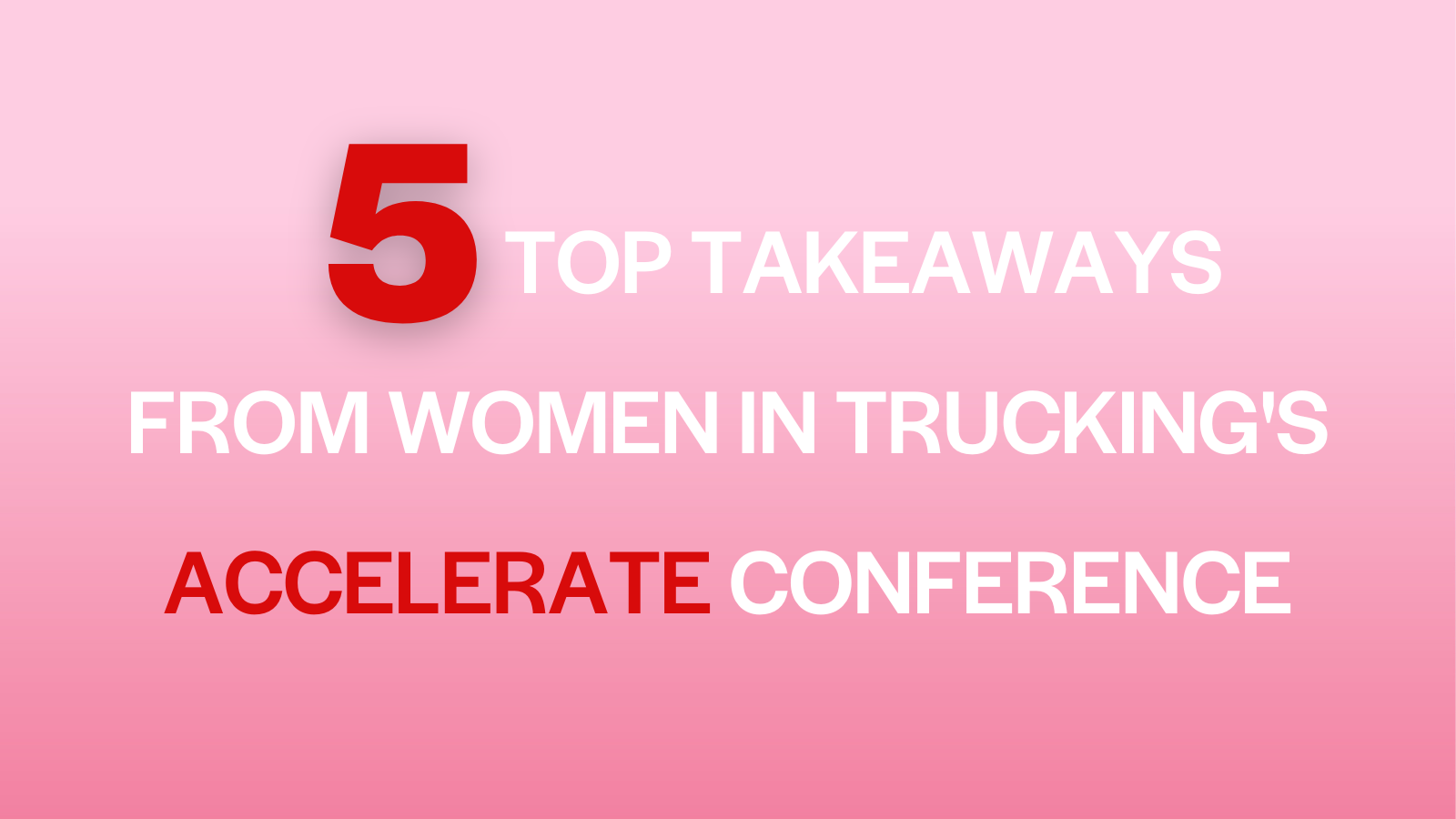 Last week, four members of the drop & hook team attended Women In Trucking's Accelerate Conference held in Dallas, Texas. With over 1,900 transportation and logistics professionals in attendance, we had the chance to learn about the latest trends in our industry and make new connections.
Representing various roles, levels, and company types within the industry, attendees brought a wealth of perspectives and stories. The atmosphere was electric, with shared experiences and a collective passion for driving positive change in the transportation sector.
Our Founder and CEO, Michelle LeBlanc, took an active role in shaping discussions. She hosted two engaging roundtable sessions during lunch and facilitated a panel discussion on authentically incorporating the voices of drivers into marketing in authentic ways. But those were only a handful of the inspiring conversations we had throughout the event!
Read our five top takeaways from this engaging conference:
1. A Rising Tide Lifts All Ships
Throughout the conference, one message was clear: we're in this together. From multiple sessions exploring how women in leadership roles grew their own careers to motivating stories of success, not one attendee wanted to gatekeep their experiences or advice. There was a clear, shared commitment to lifting one another up that was felt by all. We heard from Shelley Simpson, President of J.B. Hunt Transportation, on her inspiring 30-year career that earned her recognition as the 2023 Influential Woman in Trucking award winner. She also shared how women can thrive being themselves, even if they have personality traits deemed as aggressive or unwanted by men. Judy R. McReynolds, the Chairman, President, and Chief Executive Officer of ArcBest, openly shared her inspiring career story and how we should always want to be learning. Many similar stories were shared, leaving us driven to find success in new ways.
2. Don't Sleep On Holistic Development
Beyond professional growth, the conference emphasized the equal importance of personal development. Acknowledging that nurturing both personal and professional aspects contributes to overall success and fulfillment in our industry. Meshell Baker, Chief Confidence Igniter at Meshell Baker Enterprises, was so engaging that she hosted two breakout sessions on ditching the imposter syndrome and championing confidence both at work and in your personal life. Jenn Donahue, Founder of Dare to Rise, used her experience as a retired U.S. Navy Captain to inspire attendees to find their inner warrior. We left Dallas feeling ready to set big goals in both our work and personal lives.
3. Safety First
Safety is a top priority in the trucking industry, and the Women In Trucking conference shed light on how women want to drive for a company that puts their safety values into real action. The Truck and Technology Expo showcased the latest advancements in safety technology. From advanced driver assistance systems (ADAS) to collision avoidance technologies, the industry is witnessing a rapid evolution in tools designed to enhance the safety of drivers and other road users. Sessions and workshops at the conference explored how these technologies are being implemented and their impact on reducing accidents and improving overall road safety, and we got a first-hand look at the companies that are leading the charge.
4. Diversity, Equity, and Inclusion Do Make a Difference
In a breakout session, Jennifer Karpus-Romain, Executive Director of the Transportation Marketing & Sales Association (TMSA), addressed this topic head-on by introducing the new TMSA DEI taskforce and opening space for challenging, yet inspiring conversations. The biggest question: how staff can get leadership buy-in for DEI efforts? The consensus from the audience was clear in response: executive buy-in often starts with the knowledge that diversity, equity, and inclusion efforts can impact the bottom line. To drive change from within, DEI advocates can survey staff, point to employee engagement and retention metrics, and even directly relate recruitment costs to communications costs associated with engaging a more diverse audience.
This topic continued throughout the conference time and again, as the impact of industry outreach to and in support of female staff was cited by speakers in several other sessions. Women In Trucking Image Team members Stephanie Klang, Kellylynn McLaughlin, KayLeigh McCall, Carol Nixon and Jodi Edwards spoke with panel facilitator Jenny Fall about the real-world ways their companies had built ally relationships within their businesses and provided support. For example, KayLeigh McCall spoke about the need to provide modified truck maintenance and safety training tips to support drivers of different physical statures. Stephanie Klang, now retired from CFI where she put in more than 4 million safe miles over her 38+ year career, spoke to the many ways her company prioritized safety for drivers and uniquely supported her journey as an individual through personal connections. Every panelist agreed that seeing women drivers featured in marketing materials has helped to change their perceptions of the industry and their companies over time. Finally, in a panel hosted by Drop & Hook's own Michelle LeBlanc, Esther Parsons, now a Feeder Driver with UPS, also shared how she first sought out a Women in Trucking member company to work for when she was starting her career as she knew she would be accepted and welcomed there.
5. Don't Burn Out!
In Allison Graham's session "Burned Out? Don't Quit!" she covered a problem that is faced more often than not in the transportation and logistics industry: intense pressure to get the job done above and beyond expectations with limited resources. She shared helpful strategies like shifting your relationship with stress to create mental and emotional space, minimizing destructive stress and channeling that energy into daily activities instead, and addressing new challenges that arise each day in a way that gives you a sense of control. Walking away from this session gave us a toolkit to handle stress in a high-intensity industry and motivation to minimize time spent dwelling on these situations and instead channel that energy into creative output.
---
As we reflect on our experience at the Women In Trucking Accelerate Conference, we carry forward a renewed commitment to amplifying diverse voices and fostering a culture of empowerment within the transportation and logistics industry. This event is now a staple for the drop & hook team, and we hope to see you there next year!