A Step-By-Step Guide To Strategically Join TikTok (And Why You Should)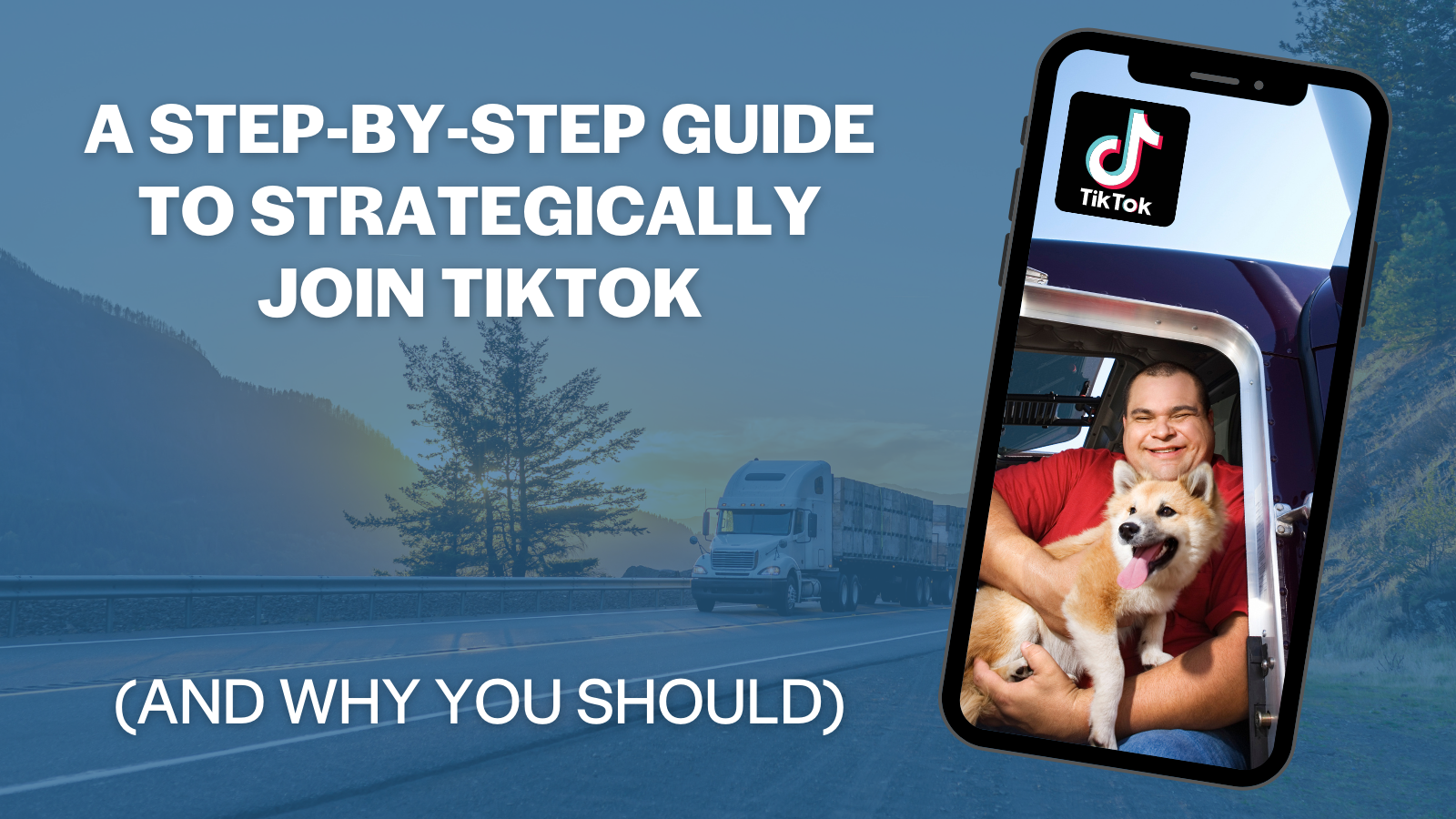 You've dabbled on the platform as a viewer. Maybe you've even shared your own version of a trending dance – or at least you've seen one of your kids do it. But creating content for your organization on a platform that has documented safety concerns and that is known as a place for employees to complain about work can be intimidating, to say the least.
With TikTok being the most popular domain from September through December 2021 (ahead of even Google), it's time to seriously think about the audience you're missing the chance to connect with.
It's definitely not a platform for every company, but if your brand includes fun or humor, you might want to consider adding TikTok to your digital marketing strategy. Plus, it's a great platform to reach a typical trucking company's target audience.
In this blog, you'll learn how your organization can enter the TikTok space strategically. We'll guide you step by step, and then you can put yourself in the driver's seat.
Step One: Research, Research, and More Research
Yes, we're asking you to spend time scrolling through TikTok. Check out popular companies like UPS, Pilot Flying J, and DVL Express, and trucking influencers like Clarissa and Alex. Take notes on what's trending, what hashtags you notice, and how brands are finding their voice on the platform. Need a place to start? Search for hashtags like #Trucker, #TruckerLife, #WarehouseWorker, or #ForkLiftOperator. Oh, and don't forget to search for hashtags with your own brand's name. You might discover employees are already active on the platform like Pamela Robinson with over 1 million likes.
Additionally, check out TikTok's business resources for brand case studies, best practices, and more.
Step Two: Review Your Marketing Strategy
We hope you're excited about what you've discovered in your research! Before you dive in, it's important to take a step back and review your current marketing strategy, staff workloads, and your human resources policies. Adding to your marketing strategy always takes resources, and a TikTok strategy can be more time consuming than you might think. For example, TikTok recommends you post 1-4 times each day. While this is out of the question for most brands, this recommendation is a good wake-up call to what it will take to be successful on the platform.
Consider who will be responsible for strategy, daily tasks, filming, editing, etc. Additionally, start a list of employees who would be interested in being featured on your company's TikTok.
This step can be discouraging. If you don't have the resources you need, that's okay. Start taking steps now to launch a TikTok strategy in the future. Plus, maybe you can start working with influencers who already have a following. Go back to your notes and look at influencers using your hashtags.
Step Three: Let's TikTok!
Once you've created a strategy and budgeted resources, it's time to create your account. Start following people in the space you want to be in, and engage with their content by liking and commenting on their videos.
Before you film your first video, remember that:
Most users scroll the app with sound
You must be authentic – not every video needs a large production set
Being short and sweet saves you time and performs best on this platform
Your content should be unique while maintaining your brand voice
You should keep your captions short, but intriguing
You should include hashtags relevant to your content
You shouldn't replicate content that was designed for another platform; think TikTok-first when producing content on this platform
Step Four: Analyze
While it's always important to analyze and report on past performance, it's even more essential when you enter a new space. Overall, see what type of content is performing better than others, what hashtags need to be updated, and also take a look at your competitors on a regular basis to monitor what's working for them.
Key metrics to watch out for include video watch time, likes, comments, profile views, and shares. Learn more about TikTok's analytics features here.
Overall, it's important to know that not all brands belong on TikTok. If you find your brand has similar values to other brands on TikTok that are true to their brand voice while creating authentic, engaging content, TikTok might be right for you. Connect with a young audience who might be interested in a career at your organization and build brand awareness with new leads.